Main content starts here, tab to start navigating
DESIGN BEHIND OUR LOCATIONS
Slide 1 of 4
Slide 2 of 4
Slide 3 of 4
Slide 4 of 4
Designed to make you flip upside-down! Design, repeat and eat! Many elements went into the design of our second location in Englewood Cliffs, New Jersey which opened in November 2018. The dining area incorporates a chic industrial look that makes the space fun and inviting. However, we wanted to maintain the original design concept of the Edgewater location which was opened in 2014 so we included the enchanting greenery in the space.
This Brownstone Pancake Factory location was designed from the ground up or in this case, from the ceiling down. Sky and garden murals accompanied by real brick facades, and faux grass. The park-like setting complete with benches, lamp posts, and bicycles are flipped upside down. In addition, we incorporated a bit of nostalgia by using a custom newspaper wall covering. The wall covering features clips from the grand opening of the original Brownstone Pancake Factory (circa 1968). The dining area also embraces a chic industrial look that makes the space fun and inviting.
COLLAB WITH TRUE REFRIGERATION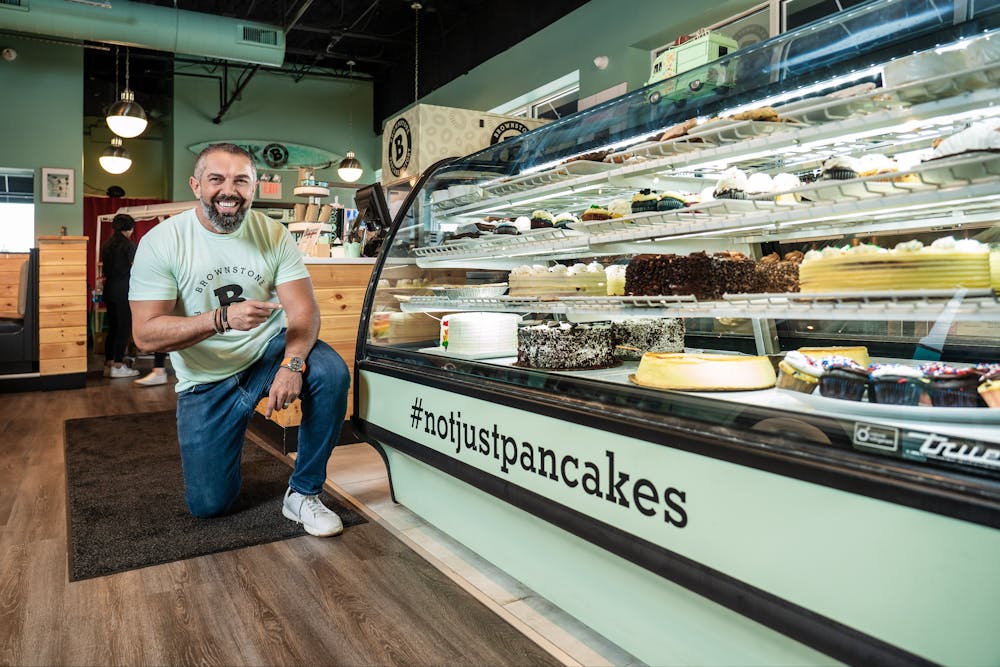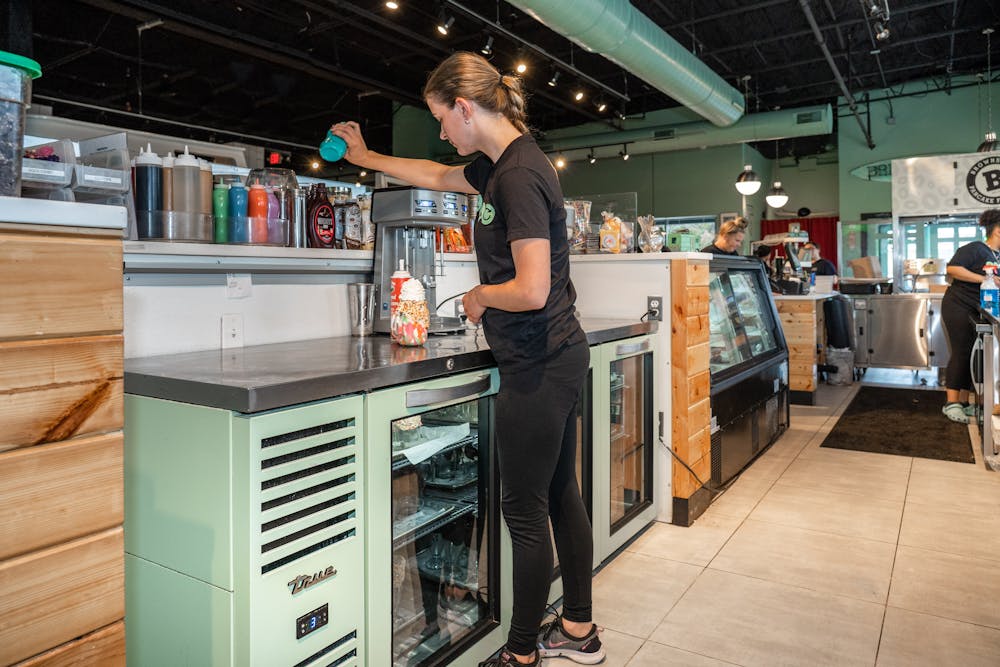 MEET THE DESIGNER
Each of our locations are designed by the "first lady of the Brownstone" - Vanessa Deleon Bournias. Vanessa is a celebrity interior designer inspired by her Cuban roots and the art deco styling that so strongly influences her culture. Vanessa is known for her modern and stylized interiors that incorporate classic decor, and she brings this look to high-end residential homes, commercial venues and hospitality facilities.
Vanessa has designed on Food Network's Restaurant: Impossible, HGTV's Generation Renovation, Designer's Challenge, Bang for Your Buck and Design Star and NBC's Open House and George to the Rescue. Her expertise and projects have appeared in publications including New York Spaces, Design NJ, (201) Home, Latina, Time, Entertainment, ASPIRE Metro, Architectural Digest and Cosmopolitan.
Vanessa often jokes that Bobby Brownstone is always her toughest client, but that is ultimately how the magic happens when creating each of our unique locations!